Basic Considerations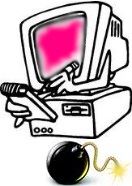 Make sure you have up-to-date Anti-Virus software
Don't undertake high risk activities:

Don't go to high risk internet sites (2% of links on the internet have been compromised)

Don't use peer to peer (file sharing) software to download files (if you do however .. learn how to configure and use the software reliably – easier said than done)

Install Microsoft Security Essentials on older Operating Systems [eg. XP, Vista]
Check the validity of any downloaded files by verifying the check sum for that file before installing.
Ensure all Microsoft security updates have been downloaded and installed. [eg. MS08-067]
Install and/or properly configure a firewall.
Use Firefox browser with the WOT add-in.  This browser will indicate suspect sites before you access them.  Google Chrome periodically downloads updates of two blacklists (as an alternative .. one for phishing and one for malware), and warns users when they attempt to visit a harmful site. [http://www.google.com /chrome].
Scan and remove social/rouge software which may allow access by third parties to your computer. (eg. hamachi, torrents etc. – not considered to be Malware)
Scan/review USB drives if used on multiple machines.
Use sophisticated passwords for your email (minimum: 12 characters, a mixture of alpha-numeric, upper and lower case).
Other Considerations
Use Thunderbird as your mail program … then change the settings to limit views to members of your address book.
Use the google safe browsing tool to review web sites before accessing them http://www.grapethinking.com/google-safe-browsing-diagnostic
Use a specialised firewall Server before your network (This system can monitor and dynamically block hacking events directed at your network, block any range of Ip's etc. etc.).
Consider locking USB ports for storage devices.
Install Ubuntu (a Linux Operating system on a separate partition and use that to access the internet).
Use a Read Only Operating system as a way to access the internet .. on a separate
partition.
Create separate partitions for data and operating system.
Use an encrypted password manager to record passwords.