Visitek is a Information Technology (IT) Company providing customised IT services to people in business.  We specialise in the area's of Communications, Hardware and integrated Distributed Software Development.
We not only provide hardware infrastructure, but manage networks and integration with the other distributed technologies.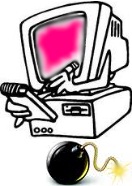 With our development partners we have over a decade of experience, developing software in Childcare, Accounting, Coal, Grains, Statistical analysis, Web Development (including providing web site infrastructure and management), domain management software, etc..  Distributed Systems:  This means remote administration over secure encrypted data connections, essential for multiple points of presence.