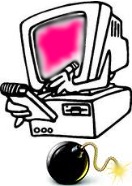 Scam Tactics
According to itwire.com, the most prevalent threat in Australia in terms of the number of computers infected, and the third most common threat worldwide, is "Renos," a Trojan down loader. Renos automatically downloads potentially unwanted software onto computers and typically presents "erroneous warnings claiming the system is infected with spyware," and that the Trojan then offers to remove the alleged spyware for a fee, and in some cases, causes system instability.
Increasing Cost
The 2007 Personal Fraud Survey by the Australian Bureau of Statistics (ABS) inferred that in the twelve months prior to the survey 76,000 Australians were victims of online credit card or bank card fraud. In the 2007-08 financial year the Australian payments industry, including banks and credit unions, lost $63.5 million due to online credit card and bank card fraud.
House Stolen via Email
The recent case of identity fraud and house theft in South Australia is a reminder to protect email access and implement strong passwords. "It appears there was an interception of the landowner's mail in South Africa, where the fraudsters stole his identity and falsified a number of documents. These were then sent to the relevant real estate agent in Perth" [Det Snr Sgt Heise .. reported The West Australian September 21, 2010]
Infection Rates Increasing
Most infection rate statistics indicate a rate of infection at between 3 to 9 per thousand computers. Studies indicate the higher rates of infection are due to the following:
Microsoft Security updates not being installed on computers

Downloading pirated software
The 2009 report by the Business Software Alliance indicated that pirated software leads to higher Malware infection rates.